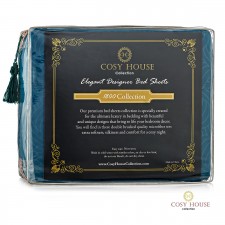 Harlingen, Texas, September 2, 2016 (Newswire.com) - Cosy House Collection, a full-service home collections producer and innovator with a commitment to making the best quality home products possible today at affordable rates, this week unveiled their Elegant Designer Microfiber Collection on Amazon.com for all interested shoppers and at-home decorators.
Borne from a passion for enabling everyday shoppers to acquire elegant home collections products for a fraction of their usual cost, Cosy House Collection never compromises quality for affordability.
"We created this unique, yet affordable collection for all customers looking to give their décor a gorgeous uplift," said Ernesto Barrientos, Co-Founder and Co-Owner of Cosy House Collection. "We call it the elegant collection because it's an easy way to add a touch of elegance to anyone's bedroom. Everyone deserves to have the opportunity to live luxuriously."
Cosy House Collection's new Microfiber Collection comes with elegant designer 6-piece bed sheets that are guaranteed silky soft and high quality with their 1800-brushed Microfiber bedding. It also includes 4 pillowcases, an extra deep pocket fitted sheet, and a flat sheet. The sizes available include Queen, King, and California King.
"This luxury bedding was developed to melt anyone's stress away the second they come home and lay down on their bed fit for royalty," added Manuel Suarez . "These bed sheets not only look eye-catching high-end, they also feel it, too. Spread the word on the availability of our product set, and head on over to Amazon to peruse our expansive color selection."
The Microfiber Collection is safe to wash and dry as many times as needed. No special dry-cleaning or expensive trips are required to keep them pristine.
The product comes with a 100% Cosy House Collection lifetime warranty.
Cosy House Collection was founded last Sept 2015 offering product lines of Home Goods – bed sheets, pillows, rugs etc. Any questions? Write them at support@cosyhousecollection.com
Source: Cosy House Collection
Share: