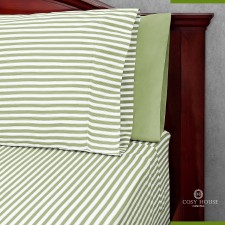 Catering to the need of availing the best quality bamboo bed sheets, Cosy House Collection has become the first choice for many.
Harlingen, Texas, September 12, 2016 (Newswire.com) - Harlingen, Texas, September 12, 2016 (Newswire) - With the emergence of new media, it has always remained perturbing to find the best quality bed sheets that will offer great comfort at the most affordable rates. All such worries come to an end with Cosy House Collection taking the bid to offer New Striped Bamboo Bed Sheets Collection at the most competitive prices on Amazon. Being made in compliance with 40% rayon derived from bamboo and 60% polyester microfibers, these antibacterial bed sheets crafted to offer a great night. Being ideal to be used for summer and winter, these bed sheets are anti-microbial, odor and mildew resistant. Catering to the need of availing bed sheets in the manufacturing of which no chemicals or additives are used, the company has designed bed sheets in such a manner that the fibers expand when warm to allow the skin to breathe and contract when cool to create warmth. Available in full, queen and king sizes, these bed sheets come with full size 6 piece bed sheets set.
The company takes pride in being able to offer discount coupons that are available on request and the limited discount offer unravels the rejuvenating path for one to get 1 free on purchasing 5 bed sheets.
One of the customer comments, "I love Cosy House sheets and these are no exception. They are 40% rayon made from bamboo and 60% polyester. Not that old scratchy polyester, these are very soft. Unlike the old cotton sheets, these don't get wrinkly and are very comfortable to sleep on. They aren't hot to sleep in, either. The deep pockets make it easier to get the fitted sheets on without a struggle." Such testimonials cater to the need of being sure about the qualitative aspect of the bed sheets offered by the company.
Designed to be free from being fed and wrinkled, these bed sheets can be easily washed without following any special care instructions. The company boasts of being able to offer lifetime warranty on every purchase.
About Cosy House Collection:
Cosy House Collection is a reputed company that combines the cutting edge technology and superior quality craftsmanship for the purpose of offering top class interior products.
For more information, please visit:
Cosy House Bamboo with Stripes Collection
Source: Cosy House Collection
Share: