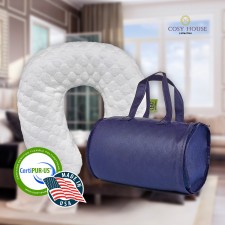 Unraveling the best opportunity for one to avail the best quality Certipur approved travel pillow, Cosy House Collection has become the first choice for many.
Harlingen, Texas, September 6, 2016 (Newswire.com) - Even though many people look forward to have firm and comfortable neck support during trips, existence of hundreds of travel pillow sellers can necessarily make one baffled about the quality and thus can affect the choice as well. All such worries come to an end with Cosy House Collection taking the bid to launch Certipur Approved memory foam travel pillow with bamboo cover on Amazon.
Unraveling the rejuvenating opportunity for one to have firm and comfortable neck support, this pillow has been designed to help one to have correct alignment of nerves, tendons and muscles as well during the sleep. Being free from mold, they are adept enough at offering a better experience than one is used to have with cotton. The bamboo fiber present in the Memory Shredded Foam Bamboo Pillow enables one to eliminate all chances of having irritation as bamboo is naturally hypo-allergic and anti-bacterial, and can even kill odor causing bacteria living on the human skin.
According to Dr. Abramson , "The memory foam travel pillow is firm but comfortable at the same time. The pillow cradle your head and neck for correct alignment of nerves, tendons and muscle when you sleep on a car, plane or train. The pillows are mildew free and can retain 60 more moisture than cotton. The pillow cover can be washed as needed, air dry or tumble dry low heat. I love my foam pillow. I have a memory foam bamboo pillow that I sleep on at night and have a memory foam mattress topper. The pillow is comfortable and conforms to your neck."
Such testimonials are the true reflections of the repeated engrossment that the company offers with its product. Besides paving the path for one to regulate the body temperature by pulling the moisture away from the skin, this Travel Pillow is eco-friendly and safe for babies as well. Besides being easily washable, this product comes with a life time warranty as well.
About Cosy House Collection:
Cosy House Collection is a reputed company that offers the best quality memory foam travel pillows at the most affordable rates.
For more information, please visit https://www.amazon.com/dp/B019ECXFYM
Source: Cosy House Collection
Share: