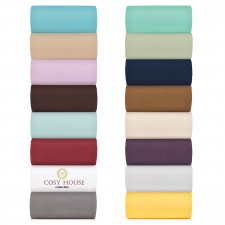 Set of 4, Premium Bed Sheets Offer Comfort And Elegance At An Affordable Price.
Harlingen, Texas, September 8, 2016 (Newswire.com) - Harlingen, Texas, September 8, 2016 (Newswire) - The team at Cosy House Collection is thrilled to announce the launch of their 1500 Microfiber Collection. Customers can now shop the luxury bed sheets exclusively on Amazon UK.
The 1500 Microfiber Collection features a range of rich colors, including neutral whites and tans along with warm greens, bold reds, cool lavender, and more. The specially crafted, double brushed microfiber material won't fade over time, ensuring that colors remain their brightest over time. The material is softer, more breathable, and more durable than cotton. Each set of sheets can be washed time and time again without worry of tearing or ripping. The material is resistant to wrinkles and stains, as well.
In addition, the 1500 Microfiber Collection features bed sheets that are hypoallergenic in nature and won't attract bed mites.
The 1500 Microfiber Collection features 4 piece sets including 1 flat sheet, 1 fitted sheet, and 2 pillowcases pet set. The fitted sheets are designed with an extra deep pocket that can accommodate mattresses up to 16" deep.
Each set is elegantly packaged within a zippered case that is ideal for storage and gifting.
Cosy House Collection is excited to launch their latest collection exclusively on Amazon UK. Customers will receive free shipping within the UK, as well as the world-class customer care of both Cosy House Collection and Amazon UK.
According to the Cosy House Collection team, "Our team is full of excitement as we expand our products globally starting in the UK. This is a significant step toward making our high-quality microfiber sheets known to the world."
Cosy House Collection offers a selection of luxury home goods at competitive prices, including rugs, mats, bamboo bed sheets, and more.
Details about the 1500 Microfiber Collection can be found at https://www.amazon.co.uk/dp/B00ZETJNCI and http://cosyhousecollection.com/.
About Cosy House Collection
Cosy House Collection offers premium home decor merchandise at affordable prices.
Contact
Cosy House Collection
E-mail: support@cosyhousecollection.com
Website: http://cosyhousecollection.com/
Source: Cosy House Collection
Share: