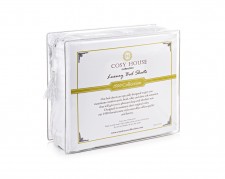 Harlingen, Texas, August 29, 2016 (Newswire.com) - Cosy House Collection, a full-service home goods provider founded in 2015 with a mission to provide all individuals with high quality products at affordable prices, this week announced they have officially reached 2,000 star reviews on Amazon.com for their support, products, and customer service.
Originally founded as a company committed to producing and providing microfiber bed sheets, Cosy House Collection in a short amount of time expanded their scope to include rugs, rug pads, bamboo pillows, travel pillows, duvet covers, and most recently, their bamboo-derived bed sheets.
We're incredibly excited to have reached the 2,000 5-star review mark on Amazon.com!"

Manuel Suarez, Co-Founder of Cosy House Collection
"We founded our business with one goal in mind: to make the best quality home products at affordable pricing, without losing the luxurious quality," said Manuel Suarez, Co-Founder, and Co-Owner of Cozy House Collection. "We're committed, above all else, to provide our customers with an expansive selection, receptive customer service, and an excellent money back guarantee.
Cozy House Bed Sheet Sets, comprised of silky soft high quality microfiber bedding, are all available on Amazon in a wide variety of colors, and in a variety of bed sheet sizes. Their quality composition gives them a luxurious presentation and reputation otherwise unobtainable at their affordable pricing level.
Also available on their platform are Eco-friendly bamboo sheets with a cool feeling, memory shredded foam bamboo pillows, area rugs, runners and door mats, neck pillows for travel, back support lumbar pillows, shams, and more. They plan to keep expanding their inventory, and will release additional home goods products on their platform in upcoming months.
"We love to hear what our customers think, and are encouraging everyone to leave our products reviews both on our website and Amazon.com," said Ernesto Barrientos, Co-Founder.
Source: Cosy House Collection
Share: