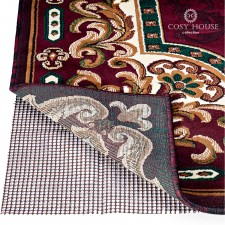 Catering to the need of availing the top class rug pads, Cosy House Collection has become the first choice for many.
Harlingen, Texas, September 10, 2016 (Newswire.com) - It has always been their aim to help one to make the interior as much elegant as possible. They are Cosy House Collection and have taken the bid to launch the premium quality non-slip area rug pads at the most competitive prices on Amazon.
Crafted to hold the rugs in a firm manner, these rug pads are available in actual sizes of 2' X 7', 4 X5', 5' X 7' and 8' X 11'. Helping the rugs to stay where they belong, these non-slip rug pads are designed to work efficiently irrespective of the intensity of foot traffic. Designed to provide firm hold over the area rugs, these pads undoubtedly reduce the stress of maintenance as well. Manufactured in compliance with polymer coated polyester scrim, these pads eliminate all the prevailing problems pertaining to vacuum cleaning time as well as keeping the rug in place on foot. Besides being extremely durable, these pads can be easily hand-washed with mild detergent, rinsed and air dried. Intended to be invisible, they can be easily placed on any surface i.e. wood, tile, cement, and floors. While the bubble cushion construction maximizes the comfort, the open-weave thick padded construction maximizes the air circulation and easy washing as well as vacuuming.
Manuel Suarez, Co-Owner of Cosy House Collection, comments, "This nonslip rug pad works exactly as described. My husband and I had a rug in our kitchen that would slip and slide around, it was so dangerous. We didn't want to put down sticky carpet tape because we're renting and didn't want any icky residue left behind. We just threw this down and fixed our issue perfectly!"
Such testimonials are the true reflection of the repeated engrossment that these rug pads offer with the experience. Besides being compatible with round rugs, oval rugs, and octagonal rugs, these top rated rug pads come with a lifetime warranty as well.
About Cosy House Collection:
Cosy House Collection is a reputed company that offers a wide variety of interior products at the most affordable rates.
For more information, please visit https://www.amazon.com/dp/B01BN5GUS6
Source: Cosy House Collection
Share: